With over 35 years experience as a slate supplier, we offer a full advisory service from concept to completion. Slatescape specialises in the import and distribution of premium quality slate products direct from leading producers around the world. Thanks to established alliances with operators of some of the finest slate quarries, we offer consistently high quality products at extremely competitive prices.
Natural slate's strength and insolubility make it one of the World's most durable, versatile, and innate materials.
However, natural differences in its form and appearance means that quality control is crucial. National and international standards govern the quality and origination of slate, so it is therefore vital that when a particular slate is specified it meets these standards. We always make sure that the quality and longevity of product will never be compromised.
Our dedication to quality control means that we have thorough checking systems in place to ensure that each slate meets the company's demanding quality standards, as well as all internationally recognised standards.
Consistent & natural tonal variations ideal for a range of commercial applications.
The consistency of Slatescape slate, with subtle natural tonal variations make it ideal for a wide range of commercial applications. You can find Slatescape slate everywhere from food retailing outlets to office complexes, from hotels and business parks to intricate town centre developments. The aesthetic qualities of slate and its reassuringly traditional look are becoming increasingly appreciated by builders and designers across the UK. With our state-of-the-art production and distribution facilities, Slatescape works to guarantee continuity of supply across the UK. This means you can specify with confidence that we will deliver the style and quality of product you need..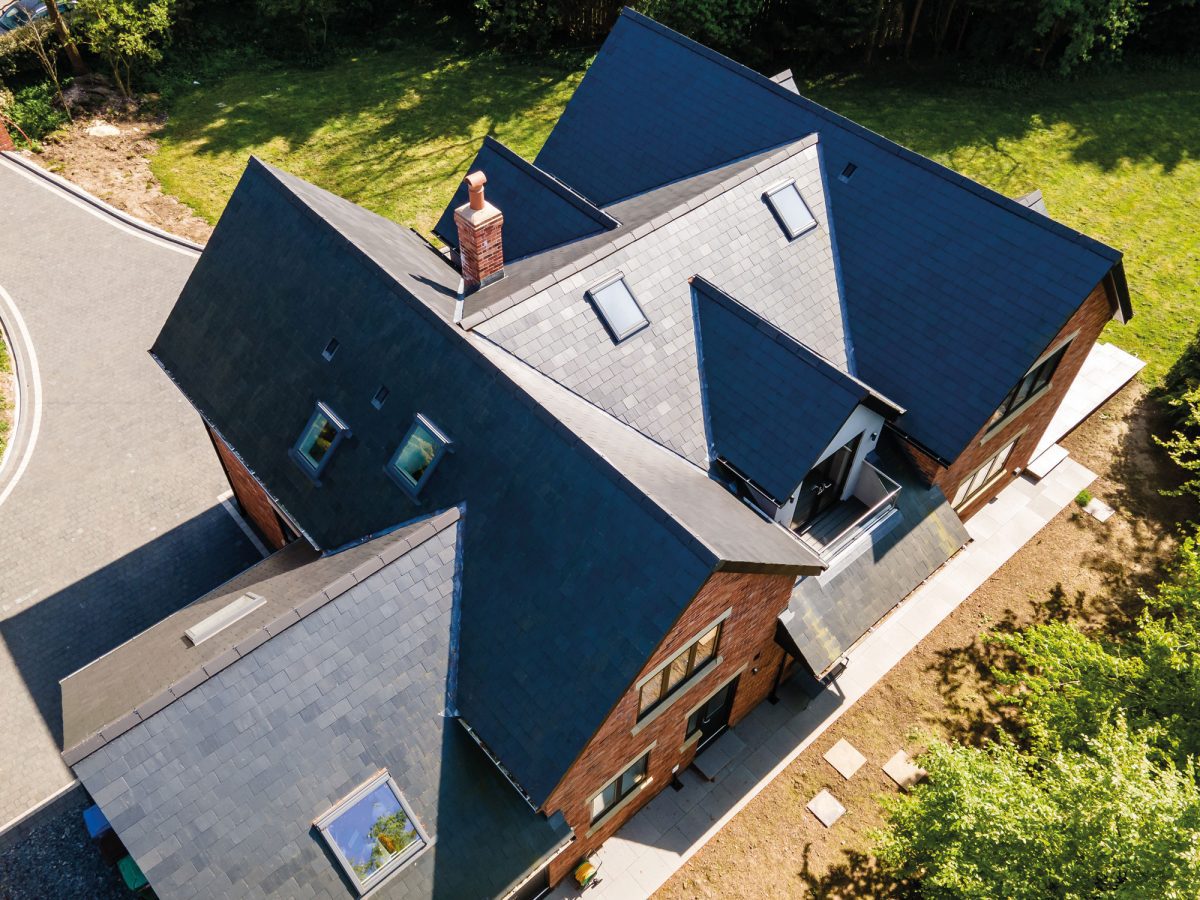 The most stunning way to protect and embellish residential properties.
Slatescape is not just a great choice for high-end designer private residences but for a range of residential applications – housing developments, luxury apartments and private homes of all sizes.
Our slate offers superb consistency of look and texture, ease of installation, plus excellent water resistance and durability.
Our impressive portfolio of work comes from supplying first class products used by homeowners, specifiers, architects and contractors alike.
Reproduce the size, shape, thickness and textural features of original materials.
When re-roofing buildings it is often difficult to reproduce the sizes, colours and patterns of previous slates because of closure of many traditional quarries and the high cost of using non-standard slate sizes. This can make it difficult to obtain planning consent or grant aid for repair work, particularly in conservation builds.
We can work directly with quarries to get you the material specification you need. 
Slatescape slate makes a perfect blend with most traditional materials, from Cornish granite to Cotswold stone, displaying all the charm you expect from a material with hundreds of years of history. With SlateScape you can combine historical accuracy with technical performance, beauty, economy and speed. Whatever your project, from Grade 1 buildings downwards, simply ask us and we will do our utmost to oblige.
Need help choosing a slate?
Our friendly staff are always happy to discuss your requirements or help you by answering any questions.